Pneumatic nail gun 18 Gauge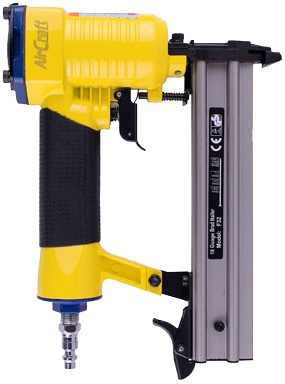 The nail gun makes use of 18 Gauge thickness brad nails and it is mostly used in the cabinet making & trim carpentry industries to resemble panel pins.
The nail gun is light in weight, with an ergonomically shaped handle that is easy to grip.
A rubber bumper is fitted to protect the wood surface. The nail gun has added safety where it it will only drive-in a nail when the bumper is depressed against the wooden surface.
Max length of nail: 32mm
Magazine capacity: 100 nails
Only use 18 Gauge nails.
Difference between 18 Gauge & 16 Gauge brad nails
16 Guage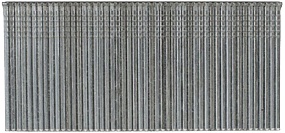 The nails are approx. 1.65mm thick, are bigger and holds stronger compared to 18 gauge nails. Ideal for heavier jobs, example installing door frames or fitting exterior trim..
The head is slightly larger than the 16 gauge nail. This will allow for better holding if glue wasn't used.
18 Gauge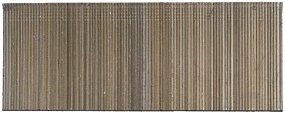 The nails are approx. 1.25mm thick, are smaller and leaves a smaller footprint compared to 16 gauge nails.
It leaves a less noticeable hole that can be filled afterwards. If glue is used, then the 18 gauge nails will be well suited to hold the wood together until it dries.
Features:
Rubber bumper protects wooden surface
Safety mechanism to prevent accidental fire
18 Guage (F type) nails up to 10 - 32mm in length
Fitted 1/4' connector
In carry casse
8 BAR Maximum
Application:
Install corner beads
Secure pieces of wood together to resemble panel pins.
consider safety for your health and the people around you

General safety suggestions:

It is advisable to always have the following items nearby and in a good condition

Eye protection – clean and scratch free
Hearing protection – quality earmuffs
Dust masks – discard old and dirty masks
Gloves – for easy handling of material and hand protection

Wear Gloves

Eye Protection

Hearing Protection

Dust Mask
| | |
| --- | --- |
| Description | Specification |
| Working pressure | 4-7 Bar (max 8 Bar) |
| Magazine capacity | 100 nails |
| Max length nail | 32mm |
Download the Exploded view: