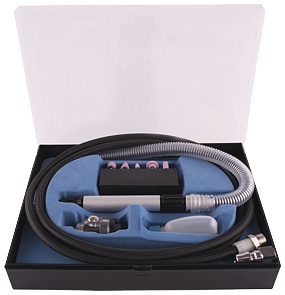 The professional mini grinder kit is used for doing fine detail work in metalworking, woodworking and engraving applications.
It has built-in variable speed with a twist air regulator up to 58 000 rpm.
A compressor is required with an air flow delivery of at least 57 l/min at 6.3 Bar to make use of the die grinder.
Make sure that an in-line lubricator is fitted with pneumatic oil (AT OIL).
Included in the kit:
In-line lubricator (oiler)
Spanner/wrench
(x5) grinding points
Ø 3.2mm collet
Air hose with connector
Pneumatic oil
Features:
Small size and lightweight, pen shaped design, easy to use with one hand
Built-in variable speed twist air regulator
Includes 3.2mm reducing collet
Low air consumption
Suitable for a variety of high speed bits and accessories
Application examples:
Engraving
Polishing
Sanding
consider safety for your health and the people around you

General safety suggestions:

It is advisable to always have the following items nearby and in a good condition

Eye protection – clean and scratch free
Hearing protection – quality earmuffs
Dust masks – discard old and dirty masks
Gloves – for easy handling of material and hand protection

Wear Gloves

Eye Protection

Hearing Protection

Dust Mask
| | |
| --- | --- |
| Description | Specification |
| Working pressure | 6.3 Bar |
| Free speed | 58 000 rpm |
| Average air consumption | 57 l/min |