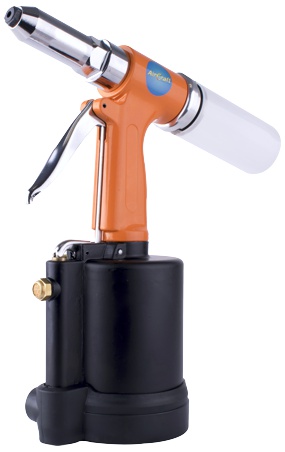 Professional hydraulic riveter, featuring a pull force of 850 kg.
Nose pieces are located on the underside of the riveter.
A compressor is required with an air flow delivery of at least 0.8 l/min at 6.3 Bar to make use of the riveter.
A container on the back holds the mandrels of the already fitted blind rivets.
Riveting capacity:
Stainless steel: 2.4-3.2mm blind rivets
Aluminium: 2.4-4.8mm blind rivets
Make sure that an in-line lubricator is fitted with pneumatic oil (AT OIL).
Features:
Container on the back holds the mandrels of already fitted blind rivets
Nose pieces fitted on the underside of the riveter
Application:
Fit blind rivets up to 4.8mm
consider safety for your health and the people around you

General safety suggestions:

It is advisable to always have the following items nearby and in a good condition

Eye protection – clean and scratch free
Hearing protection – quality earmuffs
Dust masks – discard old and dirty masks
Gloves – for easy handling of material and hand protection

Wear Gloves

Eye Protection

Hearing Protection

Dust Mask
| | |
| --- | --- |
| Description | Specification |
| Working pressure | 6.3 Bar |
| Traction power | 850 kg.f |
| Average air consumption | 0.8 l/min |
| Suggested minimum compressor HP | 1 HP |
| Exhaust | Front of cylinder |
| Range | 2.4 - 4.8mm |
| Stroke length | 14mm max. |