In-line lubricator 1/2 BSP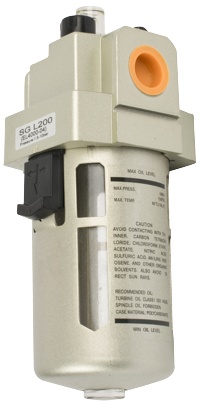 The lubricator is fitted inline for air tools that require lubrication from pneumatic oil.
Visible arrows are on the outer body of the casing that indicate the direction of installation to correspond with the direction of airflow.
For a lubricator (oiler) to function properly, it needs to be fitted within 15m of the air tool.
We recommend using pneumatic oil AT OIL
Filter/Requlator/Lubricator (FRL):
Filter/Water trap/Moisture separator:
The function of a filter is to separate moisture and other contaminants from the air. There are filters with different micron size filters. The finer the micron, the cleaner the air, but also consider that it adds restriction to the airflow.
Some filters feature a zero pressure auto drain.
In sequence of installation, the filter is always fitted first.
Regulator:
The function of a regulator is to either increase or decrease the desired air pressure. Air tools and equipment require different air pressures to function optimally.
If a filter is present in the installation, the regulator is always fitted after it. Sensitive to pressure equipment/air tools may need a regulator close to it.
Lubricator:
The function of a lubricator is to atomize fine droplets of pneumatic oil to be mixed with compressed air. This lubricates internal components of some equipment and air tools. Not all power tools require a lubricator, for example spray guns or air dusters.
The position of a lubricator needs to be within 15m of the air tool's usage and always after the filter. If fitted wrong way round, the filter will filter out the pneumatic oil from the lubricator.
Combinations:
A filter, regulator and lubricator can be configured into one unit, called an FRL unit. This unit is ideal for use with air tools that require lubrication.
A filter and regulator can be configured into one unit, called an FR unit. This unit can be used with air tools/equipment that don't need lubrication.
Important: Combined units can't be separated. The regulator and filter share the same construction.
| | |
| --- | --- |
| Description | Specification |
| Material | Polycarbonate |
| Max working temperature | 5 - 60 °C |
| Rated airflow | 5532 l/min |
| Thread | 1/2 BSP |