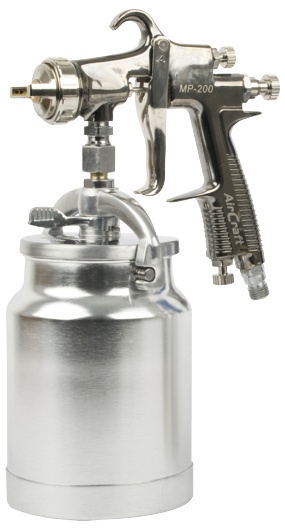 The success behind an HVLP spray gun, is the low amount of overspray.
This is achieved by having an improved atomization, by using a lower air pressure and a higher volume of airflow.
Tips and techniques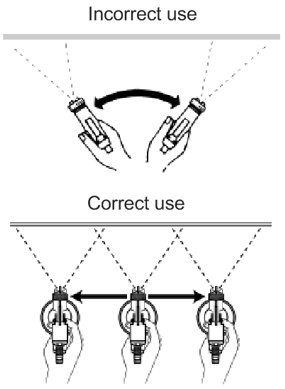 When sprayfinishing, it's always advised to keep the spray gun parallel to the workpiece surface. The distance from the surface of the workpiece should be the width of the spray pattern.
The lower the pressure of the air, the lower the chance to have bounce-back (overspray). The pressure should only be increased when the spray pattern is uneven - paint focused in the middle when the fan setting is wide.
Features:
Cast aluminium body construction
Suction feed cup allows for spray gun to placed down without a holder and holds greater capacity compared to a gravity feed spray gun
Easy spray pattern and fluid control adjustment
Stainless steel fluid tip and needle
Rotatable aircap to change spray pattern direction
consider safety for your health and the people around you

General safety suggestions:

It is advisable to always have the following items nearby and in a good condition

Eye protection – clean and scratch free
Hearing protection – quality earmuffs
Dust masks – discard old and dirty masks
Gloves – for easy handling of material and hand protection

Wear Gloves

Eye Protection

Hearing Protection

Dust Mask
| | |
| --- | --- |
| Description | Specification |
| Working pressure |  43-58 Psi (3 - 4 Bar) |
| Cup capacity | 1000 ml (Aluminium) |
| Feed type | Suction feed |
| Airflow consumption | 340 l/min |
| Air inlet hread | 1/4 BSP |
| Nozzle/Needle | Ø 1.4mm |
| Pattern width | 24cm |