AIR HYDRAULIC RIVETER 1/4" PROFESSIONAL
Brand:
AIRCRAFT
Product Code:
AT0018
Barcode:
6009515823757
Availability:
42
Recommended Price: R2,426.67
Excluding VAT: R2,110.15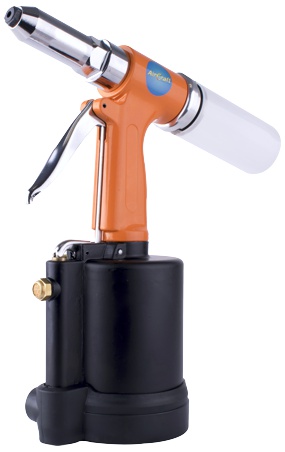 Professional hydraulic riveter, featuring a pull force of 850 kg.
Nose pieces are located on the underside of the riveter.
A compressor is required with an air flow delivery of at least 0.8 l/min at 6.3 Bar to make use of the riveter.
A container on the back holds the mandrels of the already fitted blind rivets.
Riveting capacity:
Stainless steel: 2.4-3.2mm blind rivets
Aluminium: 2.4-4.8mm blind rivets
Make sure that an in-line lubricator is fitted with pneumatic oil (AT OIL).
Features:
Container on the back holds the mandrels of already fitted blind rivets
Nose pieces fitted on the underside of the riveter
Application:
Fit blind rivets up to 4.8mm
| | |
| --- | --- |
| Description | Specification |
| Working pressure | 6.3 Bar |
| Traction power | 850 kg.f |
| Average air consumption | 0.8 l/min |
| Suggested minimum compressor HP | 1 HP |
| Exhaust | Front of cylinder |
| Range | 2.4 - 4.8mm |
| Stroke length | 14mm max. |
consider safety for your health and the people around you

General safety suggestions:

It is advisable to always have the following items nearby and in a good condition

Eye protection – clean and scratch free
Hearing protection – quality earmuffs
Dust masks – discard old and dirty masks
Gloves – for easy handling of material and hand protection

Wear Gloves

Eye Protection

Hearing Protection

Dust Mask

| | | |
| --- | --- | --- |
| SPARES CODE | Link | PRODUCT DESCRIPTION |
| AT0018-SK01 | Buy | AIR RIVETER SERVICE KIT O-RINGS (B01-05/B10-14) FOR AT0018 |
| AT0018-SK02 | Buy | AIR RIVETER SERVICE KIT AIR VALVE SEALS (10/13/21/30/31) FOR AT0018 |
| AT0018-SK03 | Buy | AIR RIVETER SERVICE KIT NOSE PIECE COMP. (2/3/5/6/7) FOR AT0018 |
| AT0018-SK04 | Buy | AIR RIVETER SERVICE KIT AXIS COMP.(9/12/14/15/16) FOR AT0018 |
| AT0018-SK05 | Buy | AIR RIVETER SERVICE KIT AIR CYLINDER COMP.(20/22/23) FOR AT0018 |
| AT0018-SK06 | Buy | AIR RIVETER SERVICE KIT BOLTS REPLACEMENTS (B06/07/08/09) FOR AT0018 |
| AT0018-SK07 | Buy | AIR RIVETER SERVICE KIT TRIGGER COMP.(17/25-29/32/33) FOR AT0018 |
| AT0018-SK08 | Buy | AIR RIVETER SERVICE KIT AIR CYLINDER (18/19/24) FOR AT0018 |
| AT0018-SK09 | Buy | AIR RIVETER SERVICE KIT NOSE PIECE 4 PCE SET(1) FOR AT0018 |
| AT0018-SK10 | Buy | AIR RIVETER SERVICE KIT JAW ASS. 3PCE (4) FOR AT0018 |
| AT0018-SK11 | Buy | AIR RIVETER SERVICE KIT HANDLE ONLY (11) FOR AT0018 |
| AT0018-SK12 | Buy | AIR RIVETER SERVICE KIT BASE COVER (34) FOR AT0018 |