12V Battery airbrush compressor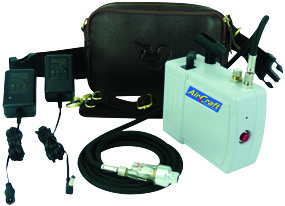 The compressor can be used for airbrushing, running from a supplied 12 V battery or from mains electricity.
Suitable for airbrushes with nozzle size Ø 0.2 - 0.5mm
Auto start stop function for continuous work, will maintain pressure at an auto start of 15 Psi and stop at 25 Psi. Working pressure is 15 Psi continuously.
Designed to be portable and fits in supplied waist bag.
Battery details:
12V, 2000 mah
Fully charge time: Around 4 hours
Working time: 90 minutes
Spare battery - SG COMP13-1
Airbrush not included.