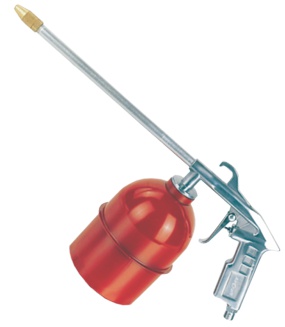 Designed to connect to a compressor and to be fill with detergents, non-corrosive cleaning agents or degreasants to clean an engine, rims or hand tools around the workshop.
The wash gun works by allowing you to get into hard to reach areas to remove grease and grime at the same time.
Cup capacity: 750 ml
Working pressure: 0-10 Bar
Air inlet: 1/4 BSP
consider safety for your health and the people around you

General safety suggestions:

It is advisable to always have the following items nearby and in a good condition

Eye protection – clean and scratch free
Hearing protection – quality earmuffs
Dust masks – discard old and dirty masks
Gloves – for easy handling of material and hand protection

Wear Gloves

Eye Protection

Hearing Protection

Dust Mask
Packaging Type
N/A
Packaging Dimensions
N/A
Weight
500g
Material
Aluminium: body
Mild Steel: cup
Nickel plated steel: Trigger, Nozzle, Fittings
Finish
Body: Matt Grey Painted, Cup: Gloss Red Painted
Features
Cup capacity: 750ml
Adjustable Nozzle: 2.0mm diameter
Adjustment: From light spray to heavy mist
Nozzle Length: 210mm
Air inlet ¼ʺ M
Working pressure 0-15 bar (0-217 psi)
Air consumption rate 3.5 CFM (100l/min) @ 2 bar
Hanging hook
Application
Workshop
Equipment cleaner
Engine
Wood Working
Gardening
DIY
Liquids/ Detergents
Paraffin, water, engine de-greaser, creosote, insecticide…
Safety
Adjust the air regulator on your compressor to reduce the air pressure to meet the tool requirements. Never point the nozzle of any tool or air hose at any person or object apart for those that are part of the project

 

Always wear proper safety gear

 

Wear a respirator mask to protect against the inhalation of dust/fumes

 

Connection/ Assembly
Attach matching quick coupler.
Can then be connected to a universal quick coupler that is connected to a compressor with an appropriate air hose.