Pneumatic Coupling - Explained
What is a pneumatic coupling?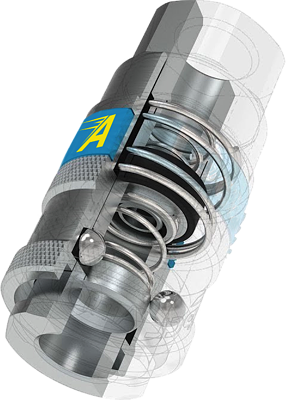 A pneumatic coupling is used to connect compressed air tools to a compressed air line. A pneumatic coupler allows a tool to be easily connected or disconnected to a hose or pipe while it is under pressure. The system consists of two parts: the quick coupling (the female part) and the plug-in or nipple (the male part). The coupling closes the line automatically as soon as it is disconnected from a component ensuring the system stays pressurized.
In the pneumatics industry, a pneumatic coupling can be referred to by numerous names. For example, an air hose coupling, compressed air coupling, pneumatic coupling or compressor coupling refer to the same product. Fitting can also be used instead of coupling. We will use all of these names interchangeably in the article. It is also common to mention the type, such as Orion coupling or Euro coupling. Compressed air couplings are available in different variants for all kinds of applications. However, the hoses and couplings must be suitable for the specific compressed air system. Please note that the term "pneumatic push-in fitting" usually refers to another product and is discussed in our push-in fittings article. These are one-piece couplings where a pneumatic hose can easily be inserted to make a leakproof connection.